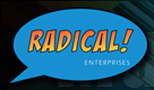 About Us

Radical Enterprises is a home entertainment company that markets quality entertainment and educational content in India. Our aim is to add value to people's lives through our products.

We have had the privilege of bringing internationally acclaimed properties like Dora the Explorer, Baby Genius, Pocoyo, Dinosaur Train, Sid the Science Kid, Babar and the Adventures of Badou and The Magic School Bus to India in the Home Video format. In addition, we exclusively market the Eagle Rock range of concert DVDs in India.

We recently forayed into retail with our brand of stores called The Entertainment Store. We are India's first retail chain for licensed merchandise. Our stores carry Figurines, Action Figures, Collectibles, T-Shirts, Posters & Art, Comics, Games, DVDs and CDs. We love entertainment!
We opened our first store in Bangalore last month. We will be opening stores in Chennai, Mumbai and Delhi in the coming months. We have tied up with Moulinsart and market Tintin merchandise exclusively in India.